3 Ways to Elevate Your Holiday Decor with Greenery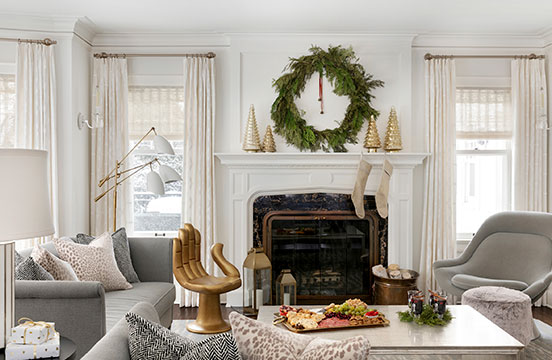 Holiday Season Stress? Greenery is the Cure!
With the holiday season just around the corner, you might be racking your brain about how to incorporate holiday decor in your home for this festive season. Whether you prefer a minimalistic approach or enjoy going all-out, we think greenery should be the final touch to bring your decor to life. (Not to mention, indoor plants are proven to reduce stress – perfect for this busy time of year!) Let's be honest, we could all use a little stress relief during the holiday season! Read on to uncover the 3 ways you can incorporate greenery into your holiday decor this year.
Greens in your home are proven to reduce stress over the holidays! Here's the science behind it: What Science Tells Us About the Mood-Boosting Effects of Indoor Plants.
1. Decide Where the "WOW" Spots are in Your Home.
Are you hosting this holiday season? Or enjoying the decor for yourself? Deciding where to focus your energy on your holiday decor can initially feel overwhelming. But it's important to remember that your holiday decor is, first and foremost, for you. Whether cooking dinner with your partner or hosting dinner parties this holiday season, these ingredients can help you decide where to focus your decor. Incorporating greenery within your kitchen or embellishing your dining table can add the perfect element of "WOW" in the space you plan to spend most of your time this season.
Need more decorating ideas? Check out this blog post Holiday Decor and Styling for a Festive Home.
Pro Tip – A wreath on your front door is a classic decoration that will never go out of style. Add curb appeal and personality with a sweet smell of evergreens or a low-maintenance faux wreath.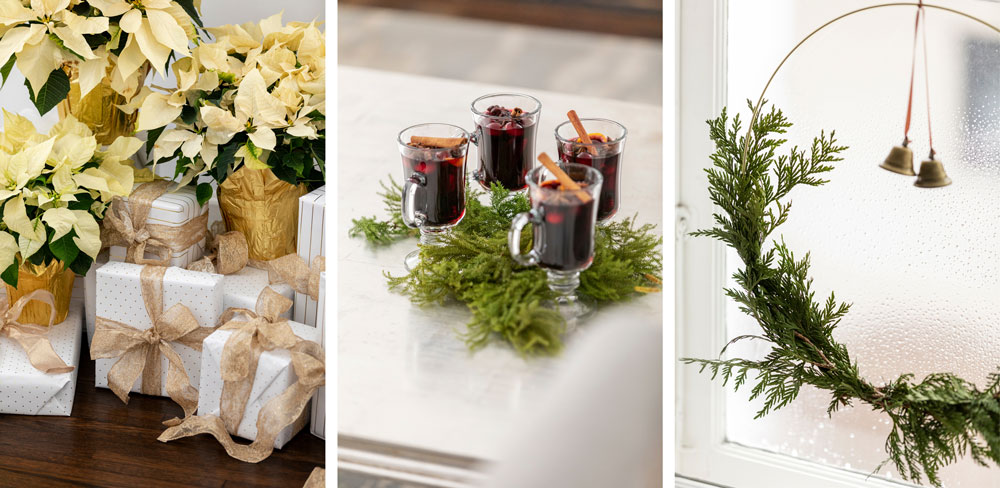 2. Real or Faux? Decide What Type of Greenery Works Best for Your Holiday Decor.
With differing needs and preferences throughout the season, the delicious smell of fresh greens may or may not be for everyone. Pine, Cedar, Boxwood, and Juniper are the most commonly-accessible fresh greens during the season. Fresh greens will deliver that iconic smell, but shedding may lead to weekly cleanup. Hydration is vital in helping to prevent the shedding of any fresh greens. Whether keeping water in the fresh tree stand at all times or spritzing wreaths and garlands, daily hydration is an effective way to prevent greens from drying out and shedding at an accelerated rate. Suppose you're looking for less maintenance and to avoid potential allergies or pet dangers. In that case, there are endless faux options to contribute to the holiday spirit. You can also consider a hybrid approach! Try a fresh-cut Cedar wreath for your front door while accenting your mantel with faux garland. The only rule for choosing what greenery to use for this holiday season is that there are no rules!
Important Note: Although poinsettias are a beautiful, festive flower, they are mildly toxic to cats and dogs. Worried about your furry friends? Check out this Comprehensive List of Toxic and Non-Toxic Plants for your Pets.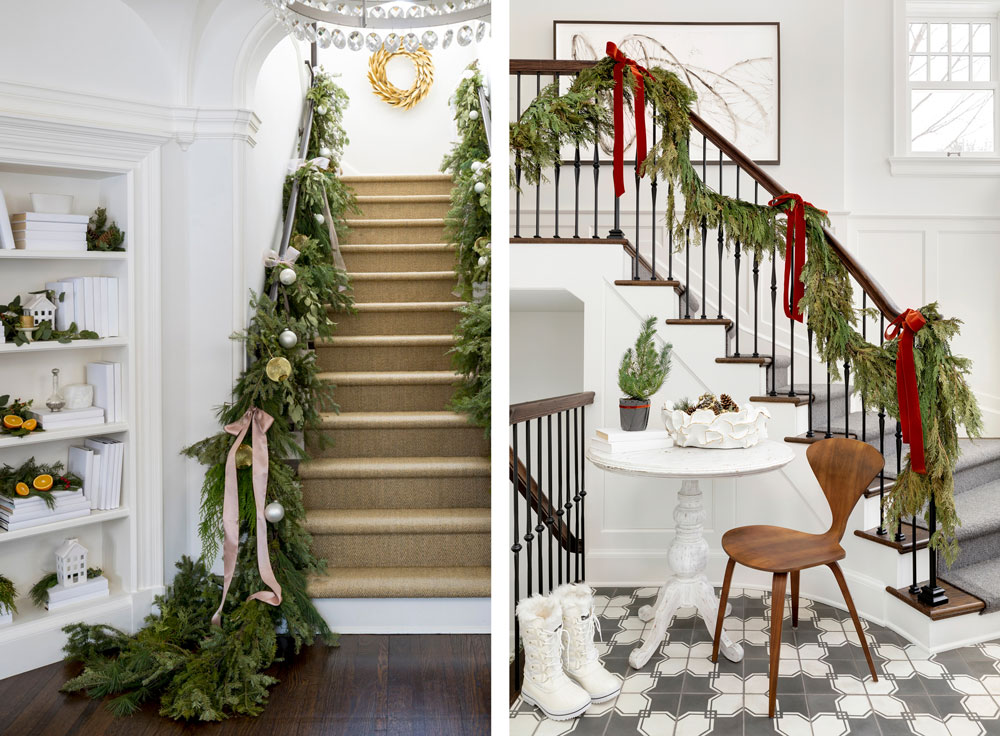 3. Decorate Your Decor!
Looking to enhance your holiday decor even further? Get creative with all the bells and whistles! Surely some fresh or faux greens will be enough to make a statement in your home. Still, with some simple additions to your greenery, you can take your holiday decor to the next level! Our favorite ways to enhance greenery and incorporate your holiday color palette are investing in quality ribbons, bells, ornaments, citrus fruits (fresh or dried), or pinecones.
Check out our Christmas Decor for the Holiday Home blog post to dive into the home of Martha O'Hara herself. You'll find more tips on decorating with greenery and citrus!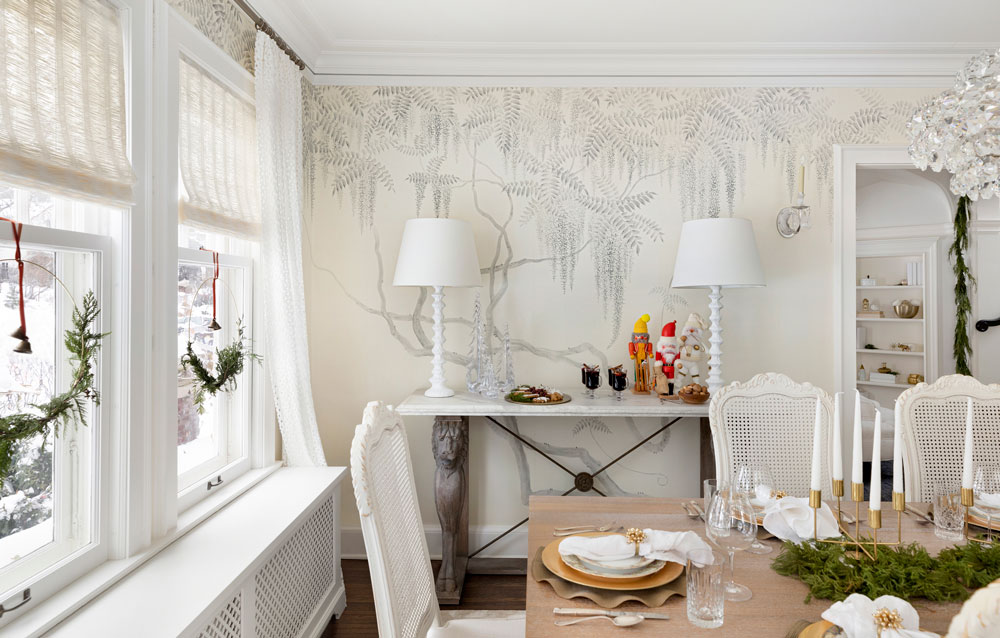 Maybe your perfect holiday decor consists of a pine wreath on your front door accompanied by twinkle lights strung about. Perchance you're the host of a holiday party, and your fabulous dining table centerpiece is full of festive china and fragrant pine. However you decide to decorate with greenery, remember that getting creative and enhancing it is all part of the fun!