Holiday Decor and Styling for A Festive Home
For many, holiday decor helps us embody a festive spirit. Whether you use elaborate decorations or take a more minimalist approach to your holiday decor, there are many ways to style your home for the season. By mixing elements and capturing what you love most about the holiday, you can achieve a beautifully decorated and festive home. And, without covering tree decor, here are 3 tips for styling other prominent focal points throughout your home.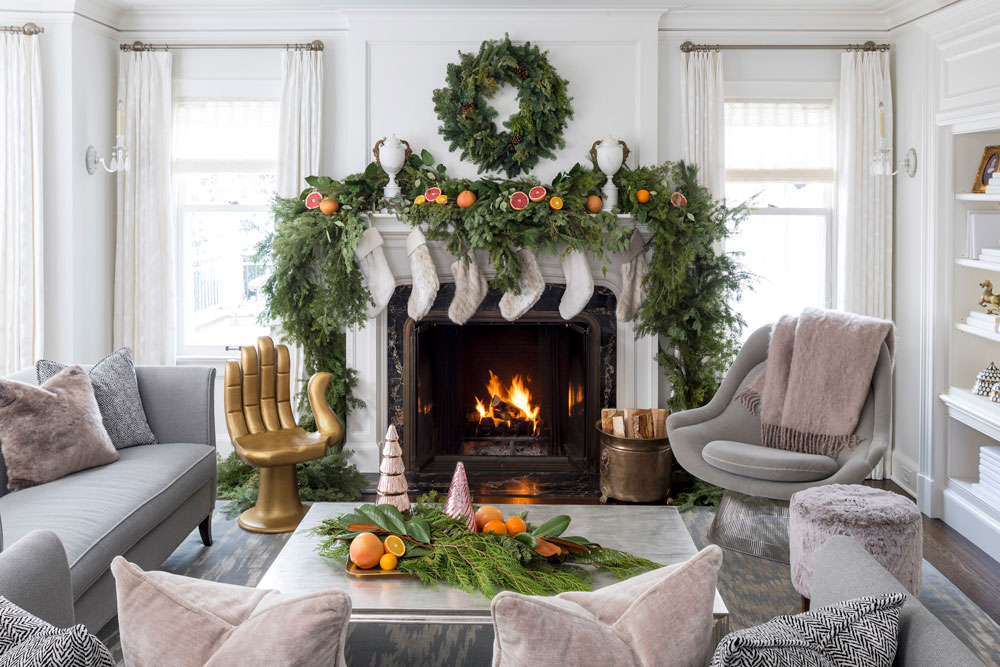 From wreaths to garlands, nothing feels more festive than holiday greens throughout the home. They have the ability to elevate a space, afford maximum flexibility in capturing a festive spirit, and greenery pairs well with everything from a classic mirror to heirloom holiday decor.
The mantel or stairwell can feel like an intimidating space to style because of its small surface area but is a focal point within any room. Holiday greenery creates a feeling of fullness and elegance.
Looking for simpler ideas that still feel elegant and festive? Check out our recent feature in American Farmhouse Style for an easy, DIY holiday hoop wreath tutorial.
2. Use fruit and ribbon to add color and elevate your decor.
Whether using halved citrus fruits or dried slices, fruit is a classic choice and addition to your holiday decor. The color (and smell) feels invigorating for the season and brings a feeling of freshness and comfort into the home. Ribbon and bows in your favorite color can also integrate warmth and joyfulness.
Added bonus – select ribbon in lush textures like velvet or silk charmeuse for elevated luxury.
Celebrating on a small scale this season? Check out our blog post: A New Kind of Holiday Season: Smaller Celebrations at Home
3. Add little touches to transition from holiday to holiday.
The holiday season can feel long and some people love making subtle changes along the way to make their decor last into the New Year. Others want to decorate once and simply enjoy. No matter which category you fall into, design seasonally rather than holiday focused and these little touches will help your styling to feel appropriate even beyond the new year.
Pro Tip – Is your home fireplace and mantel free? These tips can be used to style your favorite shelf, built-in or open space.
The holiday season is here. And ready or not, the holiday spirit is about preparing your home and yourself for the festivities. These holiday decor tips let you embrace the season in the way that is best for you. Whether you're one who starts decorating right after Halloween or Thanksgiving, or even into December, subtle adjustments will help your favorite ornaments, heirloom pieces, and everything in between shine.
Mantel styling note: If you are still struggling to create a mantel space that feels festive and full, remember to incorporate pieces of varying heights and textures. This will add dimension and visual interest.