Your Ultimate Kitchen Remodel: A Country Bistro Home Tour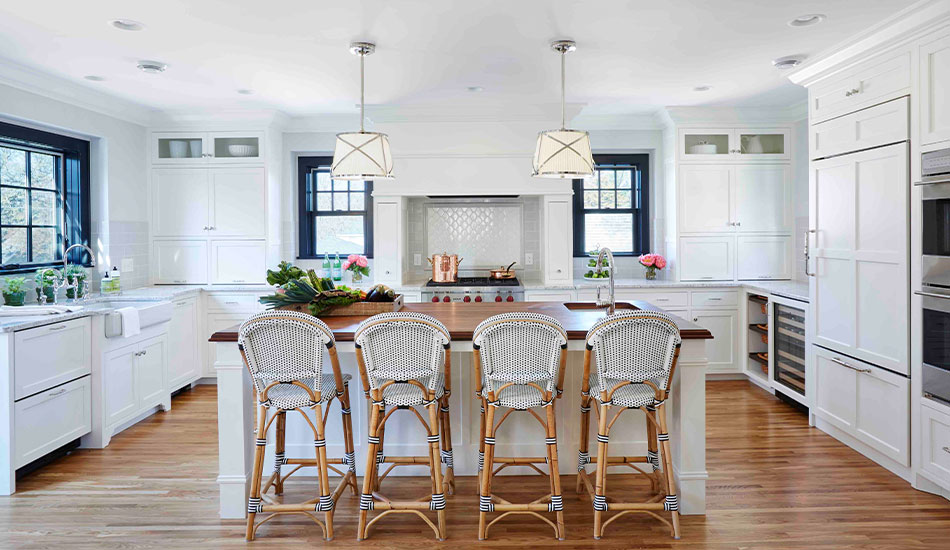 5 Tips to Creating Natural Flow + Our Favorite Storage Hacks!
Galley to Bistro. It's not uncommon for people living in historic homes to feel conflicted about maintaining the original charm while creating openness and easier flow. That's a challenge we aimed to address in this 1930's Tudor home kitchen remodel whose original kitchen was too small for more than one person at a time.
Home tour, anyone? Let's get to it!
1. Maximizing Square Footage
So many of us are looking for more space in our kitchens. A great way to achieve that is by expanding entryways and removing dividing walls as we did here. That came with the added benefit of creating room for a larger island, where we added new storage too!
Tip #1: If your home could do with some contrast, consider black window castings!
2. Natural Light
Everyone wants natural light flooding their interiors, and a new open layout makes that so much easier. In this kitchen, we added windows and painted the casing black for some extra contrast.
3. Storage & Organization
Who doesn't wish they had more storage in their kitchen? No client we've ever met! Storage solutions are getting more creative than ever – from open baskets at kiddo-height to coffee garages to vertical drawers for stove-top access. And we used them all here!
Tip #2: Storage Hack! These pull-out baskets work for easy access to kids' snacks and produce as well!
4. Breakfast Nook
As great as kitchen islands are, casual dining and breakfast nooks have become a mainstay for eating, crafting, games, and more. In this space, we added a little interior window that Dad playfully uses to pass pancakes on lazy weekends. The results are in…the kids are cool with it.
5. Blending New in with the Old
When you live in a charming, historic house, it can be scary to make changes to the interior. We like to identify special features to highlight (like beautiful stairways or fireplace details) and details to keep consistent (like millwork and wood profiles). The goal is to always celebrate a home's history while making it functional for today's lifestyle.
This kitchen remodel was a special project that reflects so many challenges we hear about from people every day. We hope you can use some of these design tips in your own home or upcoming remodel. To see additional photos of this Minneapolis Country Bistro Remodel, head over HERE.
Thinking about remodeling your home? Have a project in mind? See how our designers can help!
Interested in reading more from our blog? Click HERE.