Throwback Thursday: Tudor Revival Remodel Before & After
Last year, we completed a one-of-a-kind remodel of a historic Tudor-style home in Minneapolis. We get so many questions about this project due to its small size and big impact. It's about time we give you the full story!
A dear friend approached us about turning her beloved neighborhood home into a more accessible space for entertaining her friends and for relaxing every day.
Since this home has a small footprint, designing unique storage solutions and maximizing square footage was at the top of our to-do list. You'll see what we mean when we get to the before and after photos! ?
Entryway
To preserve the character of this Tudor-style home, we stuck with its original front door – including the beautiful window! Stay tuned for Part 2 of this project, where we will update the exterior of this lovely home!
Living Room
We painted the beams and trim throughout the house black, too! The contrast with the white walls opened up the space dramatically and allowed the architectural details to shine.
Tip 1: Painting your walls white/cream and your accents dark/black is a great way to expand a space while adding dimension to a room!
Our client wanted color and pattern in her small space, and we wanted to avoid overwhelming the now open feel. So… we made a big statement in just a couple of places. Check out that custom Fay + Belle rug and those popping pillows! Brassy gold fixtures were a final layer of glam.
A True Knock-Out!
Clients ask all the time about opening a wall in an older, more compartmentalized home. We can't explain the impact better than these before and afters do.
Eliminating the seldom-used formal dining room nearly doubled the kitchen footprint, and the living room and kitchen are so much happier now that they're connected…
Kitchen
At just under 100 square feet originally, our client's compartmentalized kitchen was reminiscent of the dark ages. The cabinets lacked organization, countertop space was nearly non-existent and the room was much too small to comfortably cook in. Our goal was to give the kitchen a contemporary layout while opening it up to the main level, and creating a refreshingly modern look.
By knocking down the dividing wall, we were able to create more seating than the original space could offer. The custom built-in bench offers tons of storage.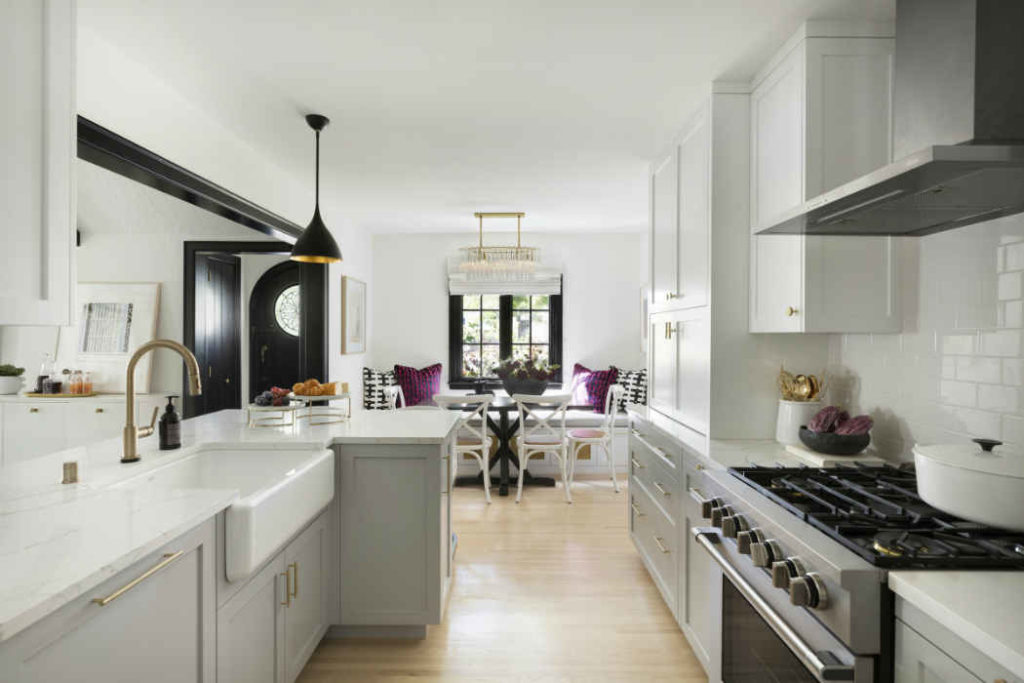 Tip 2: If you don't use your dining room on the daily, consider whether you'd like it as an office. With a little extra storage in the room itself, dining tables make for great desks.
Kitchen Storage Hacks
Even with more space, we had to get creative with the cabinets. We added large pull-out drawers for pots and pans, a hidden appliance garage for bulky gadgets, and multiple cutting boards that are strategically placed for convenience. This is one of our favorite hacks for living in a small home or condo! We also converted the rear storage closet into a spacious pantry, as a pure luxury for a 1920's home.
Info on Paint Colors, Accessories, Custom Rugs & More!
All furniture, accessories, and material selections available through Martha O'Hara Interiors
This home was the perfect example for those living in a small space or tight quarters that offers so many unique ideas – talk about maximizing potential! To see additional photos from this living room/kitchen remodel, head over here. We were THRILLED when this 1920's Tudor style home landed on the cover of the January/February 2020 issue of Midwest Home Magazine. Click here to read about how our client took on her remodel!

Interested in reading more from our blog? Click HERE.