A South Austin Bungalow Embodies Thoughtful Minimalism
Artfully Curated in the Heart of Zilker Park
This South Austin Bungalow is the very definition of less is more. Located in the heart of Zilker, it's a Scandinavian retreat for this snowbird couple. Within walking distance to local shops and restaurants – the best of what Austin has to offer – it's the perfect home for hosting friends and family when visiting during the chilly winter months.
Inspired by mid-century modern furnishings, and with an appreciation for technology and environmentally friendly products, this full-remodel was furnished from top to bottom on a budget that prioritized functionality without sacrificing heirloom pieces.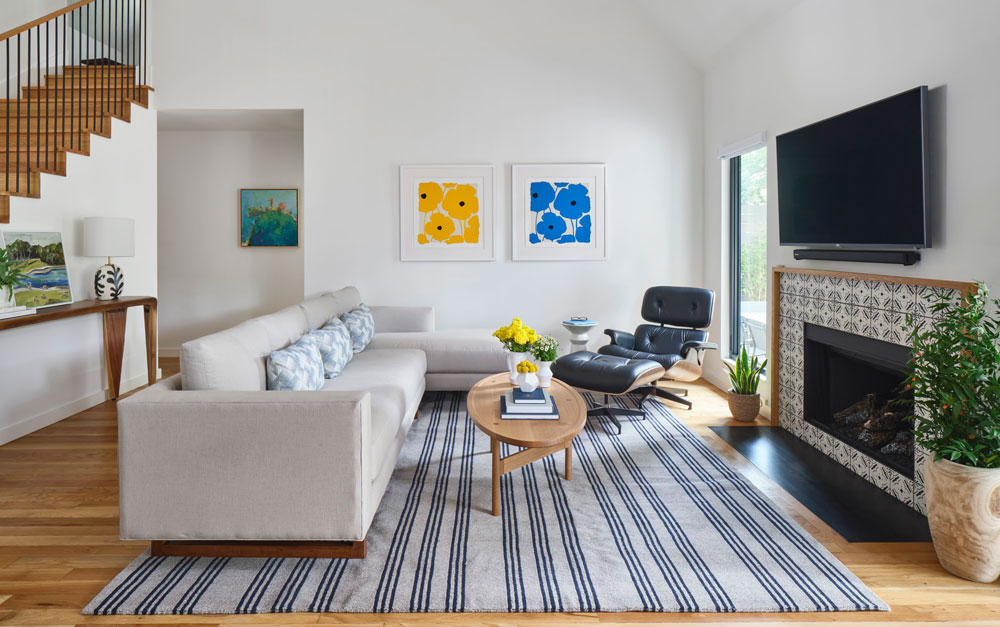 Thoughtful Minimalism
This living room perfectly captures the streamlined aesthetic these homeowners' sought. With high ceilings and bright walls, the selected furnishings are allowed to emphasize their form and function.
A largely neutral color palette finds balance between warm wood tones with organic grainlines, a playful fireplace tile surround, and a confidently-striped area rug. The Eames Lounge Chair with leather upholstery is a plush yet definitive silhouette that joyfully contrasts bold color accents in the artwork and lively house plants. Although it's a rather small space, the custom striped rug elongates the room and vaulted ceilings create a sense of openness.
Porch Perfection
In Austin, the outdoor living space is as important as the inside of the home. And this porch and backyard combo are the real deal. It's intimate with its cozy natural teak chairs, and, an outdoor prototype TV not yet on the market, lets these homeowners enjoy their favorite show with a dose of fresh air on the side. The firepit is ideal for hosting friends and family, and allows them to truly take advantage of all this yard has to offer.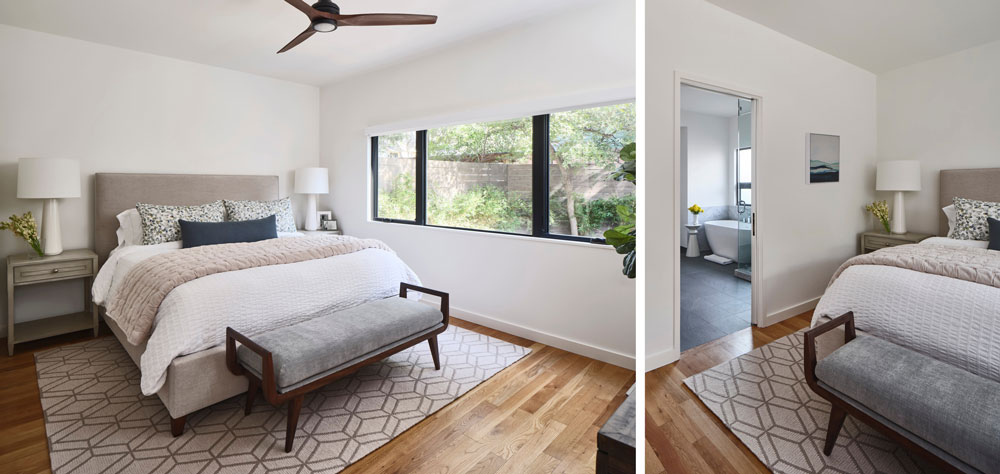 Modern Meets Monochromatic Bedroom
In this primary bedroom, a largely monochromatic palette is calming and understated. Subtle accents of color add visual interest while maintaining the monochromatic feel of the space. Wood tones and organic elements breathe life into this room. The texture of the Soumak weave rug and fabric selections add depth. And the geometric pattern, inspired by mid-century modern textile artist Vera Neumann, feels contemporary and current, to fit the overall aesthetic of this home.
Can't get enough of these modern elements? Experience how Minnesota homeowners live a contemporary lifestyle here: A Modern Family Home in the Heart of the City
Green for the Guest Bedroom
With sisters who love to visit, the guest space needed to be both functional and inviting. A linen upholstered headboard and faux linen nightstands in an earthy green invite you for rest and relaxation. Colorful accessories are bold, yet understated and hints of gold add elegance to the room.  Pink and mustard cut velvet pillows are plush yet contrast the bright white linens and matelassé coverlet.
This Austin bungalow balances function and flair for a Scandinavian-inspired retreat in the heart of Texas. Thoughtful minimalism is not just about less, it's about being intentional. From the furnishings to the finishes, colors, and art, everything in this home was selected to curate the ultimate South Austin bungalow.
Can't get enough of this home? Check out the full home tour here: Zilker Bungalow, Austin TX