The O'Hara Method: Furnishing Your Home, Part I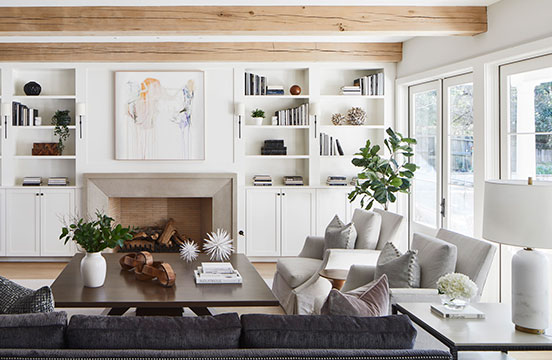 How Do I Furnish My Dream Home?
It can be hard to know where to start when it comes to furnishing your home, and there are a lot of options available these days: retail, retail designer, virtual design, interior designer, etc. Each of these comes with pros and cons, but today, we're addressing how to work with an interior designer to furnish your dream home.
For someone considering an interior designer for their home furniture project, the pros are pretty straightforward: access to lines you wouldn't be able to purchase otherwise; expertise of a professional who understands a variety of styles and who knows how to pull things together in a beautifully balanced way; relief from having to do the work; enjoyment of getting to make all the decisions (or avoid them if that's your preference). And finally, working with a designer comes with a long-term relationship with someone who can help with future builds, remodels, home update, or other furniture projects!
If you're thinking about hiring a designer, you want someone you know who will be smart with your budget in addition to understanding your style. In fact, we've built O'Hara Interiors on the premise that design should not only be about style and quality but that it should all start with a dedicated budget. Whether your designer meets the high or low end of your budget, you should always be allowed multiple options that are high-quality, stylish, affordable to you, and cohesive.
As a benefit, working with a designer on technical drawings, lighting, accessory selections, etc, affords you a head start on your home design. This designer already knows your house and your style.
The same goes when starting with a designer on a new build or remodel. The goal is to build a long-term relationship with your designer and they will deliver consistency and efficiency.
Want to know more about what to expect when working with an interior designer? Check out our blog post, What to Expect When Hiring an Interior Designer.
Read more on Martha's background in Austin Women Magazine.
Why Should I Hire an Interior Designer?
A Cohesive Look
For most people, it's easy to know what you like but pulling it all together in a beautiful way can prove difficult even to the most stylish mavens. We often work with clients who have tried to do it all themselves, and they express dissatisfaction with the end result. While every piece should be lovely, what matters even more, is the composition of each room. Many DIYers discover things like scale, color, or coordination are amiss. A huge part of what a designer can help you with is turning your personal style into a finished look.
A Finished Room
If struggling to create a cohesive look that's balanced, appropriately scaled, and beautiful is the toughest part of the project, finishing a room is the second most referenced problem we run into. Oftentimes, when people try to design a space on their own, the result is a functional space that always seems to be missing something. Every so often, the opposite is true, when a homeowner just keeps adding more until a room feels overdone. A designer can help with all of these things.
Access
Designers also have great relationships with furniture lines across many styles and price points. Much more than would be immediately available to someone via retail.
What's the Difference Between Trade and Retail Furniture?
Retail furniture is mass manufactured in large quantities based on what is most popular to most people. Working with retailers is going to tend to give you a catalog-ready room, and that can be friendly and fun!
Trade furniture, lines that only sell to designers and people in the design industry, are going to tend to be produced in smaller batches with a greater emphasis on craftsmanship. They will allow more tailoring and customization to make sure things suit the design and the homeowner. Finally, they offer special touches and finishes that feel unique.
The end result of working with a designer is having a home that feels curated rather than copied. In short, trade accounts will have higher quality furnishings, diverse styles, and unique pieces – all in a range of price points.
Working with a designer will allow you to put together pieces from a multitude of furniture lines to create that curated look.
The end result of working with a designer is having a home that feels curated rather than copied.
How Long Does It Take to Furnish a Room?
Every designer works a little differently, but the overall process is usually the same. The designer-client relationship begins with an introductory meeting, followed by a project proposal. After agreeing to the project and budget (beware the designer who doesn't tell you how much things will cost!), your designer will take all she or he has learned about your style, life, home, priorities, and budget, and start to work on your design.
Most designers will offer a design presentation of entire spaces at a time. This is followed by any necessary revisions and order placing. Your designer and their team keep a close eye on shipping notifications. We wait until everything arrives and is carefully inspected at your local white glove warehouse, then schedule a furniture installation. The end result is truly remarkable for you, creating an exciting and thrilling home reveal.
From your initial contact with your designer to the final installation, most years this full process will take an average of from 4-8 months, but in 2021, this process is taking anywhere from 6-12 months – and for some designers, even longer.
Ready to furnish your space? Here's a quick overview of our process: Furniture & Styling
A happy client is an informed client, and our first job is to make sure you know what to expect of our process. Stay tuned for Part II where we'll dive deeper into the process and discuss the cost it takes to furnish your space.