California Casual in the Midwest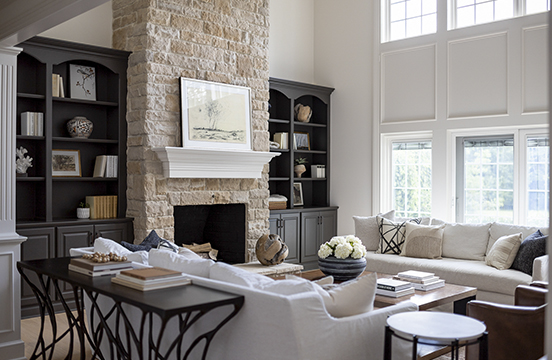 California Casual Takes On A Refined Twist
It's no secret that many of us desire the bright, airy aesthetic often found along coastal homes. But when you reside inland, that California Casual style doesn't always translate the same throughout the year.
The Midwest offers a beautiful transition through all four seasons, and this home was meant to embrace the best of each season. Intentional floor planning makes the most of multifunctional spaces; comfort and drama are showcased among dark furnishings and finishes, and welcome and relaxation among bright and natural furnishings and finishes. It's equally inviting to guests and personalized for a family with older kids.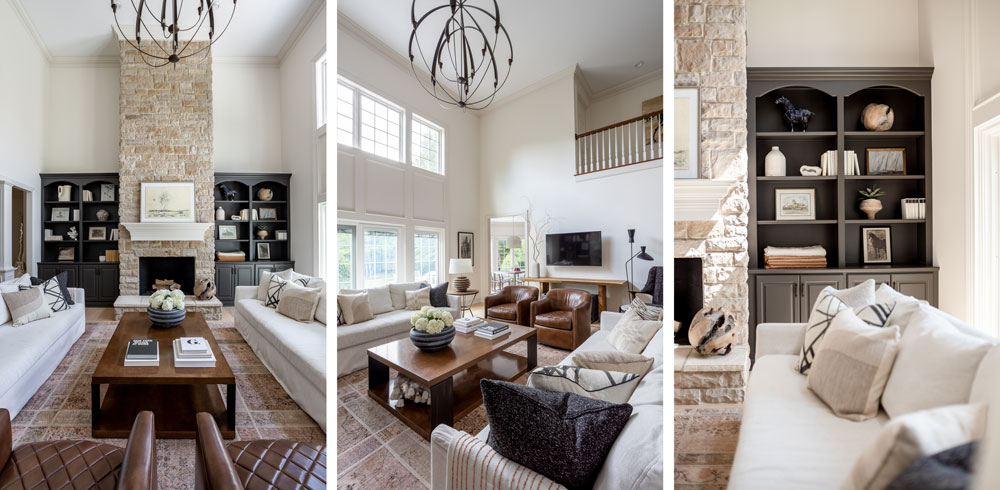 Multi-Purpose Great Room
Game nights in this great room are for modern adults, and unwinding with a good book never looked so sophisticated. It's a space that mixes casual and sculptural furnishings for a cozy and inviting room. Yet, it's grand in its own right, with a central, statement-making fireplace and an entire wall of windows. Neutral and muted tones set the stage, and this living space brings drama and contrast with its dark built-ins against the light stone fireplace.
The coolest part? Well, it's hard to pick only one, but we love the space's multi-purpose. Our goal was to create as much usable space and intimate moments with seating to match. The brown swivel chairs are all about flow, with the ability to turn 180 degrees, making the most of this room, whether relaxing around the fire or binging Netflix. Furnishings were planned with flexibility in mind. A faux sheepskin chair to the right of the TV makes the most of otherwise wasted space, and ottomans under the TV are the perfect footrest.
Casual Dinette
This dinette area is funky and functional for a family with older kids. The table, with its clean lines and modern details, seats 6, while clear chairs give the illusion of more space and openness in what might otherwise feel like a small room. Metal framing adds structure. An abundance of natural light fills the room no matter the time of day. Trendy artwork adds a youthful vibe. A bright office for her is just off of the dinette in what was previously a sunroom.
A Warm Welcome
The entry is warm and inviting. Simple in its decor, it showcases custom artwork by Christina Twomey, which complements the home's neutral palette with notes of sepia and blush. Adding drama and sophistication the moment you enter this home.
With Formal Space, Too
Want to know a tip? Try a slightly darker trim color to add depth and dimension to your home – a creative and classy touch to a rather traditional feature. And this formal dining space is perfect for entertaining and holiday meals. It's dramatic with a bold wall color and traditional wainscoting. We kept the decor simple so an oversize yet classic chandelier could shine without feeling overdone. Artwork centers the room and adds contrast and warmth against the rich blue walls.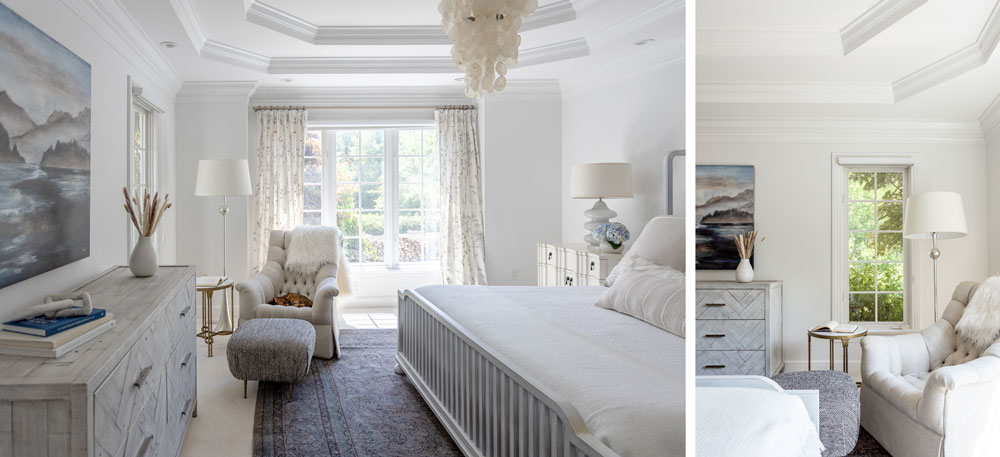 A Serene Main Suite
A stunning double tray ceiling is the star of this suite, complimented with an elegant capiz shell chandelier. With a bright and inviting aesthetic, washed woods are highly flattering next to subtle blue and purple notes. The corner is a serene moment with a cozy chair, perfect for unwinding at the end of a busy day. A large area rug amplifies the peaceful feeling within this space, and window treatments enhance natural lighting with their subtle floral detail. The overall effect is soft and calming.
Sometimes your dream home is only about furnishings, paint, and lighting. And, although that doesn't sound like much, trust us…it still is!
Finishes and furnishings were personalized with NO messy construction needed! The intentional floor planning, mix of casual and sculptural pieces, and personal effects create a home with ultimate charm while feeling like a special place unique to this family.
Want to view all the photos from this home, check out our Midwest Casual Remodel.