Interior Design for Lake Homes
3 Mistakes and How to Avoid Them
A lake home is an ideal retreat from the hustle and bustle of everyday life. Whether you are building your dream retreat or embarking on a remodel with character, you don't know what you don't know. And because we want your lake home to be your dream lake home, we're sharing the most common mistakes we see when designing on the lake and how to avoid them.
Mistake #1: A Lake Home That Creates More Work.
Let's be honest, the whole point is to get away, relax, and recharge. The last thing you want to do is clean, care for the property, and more. This is why a low-maintenance design, thoughtful floor planning, and the inclusion of everyday conveniences are so important. It means selecting durable and timeless materials, considering how the home will be used, and putting your experienced designer to work with their abundant knowledge of design solutions. This will allow you to truly maximize convenience.
Loving our Sugar Lake Summer Home? Check out more photos here…
Mistake #2: Not Enough Sleeping Space for Guests.
One of the best things about a lake home is the ability to casually entertain. Kids love to invite their friends, and family constantly vies for a visit. The key to a relaxing guest experience for you and your guests is including everyone's own space. There is no such thing as too many beds, and a bunk room is the ultimate kid hangout, no matter their ages. Everyone will appreciate having a space and a comfy bed to sleep in.
Diggin' the idea of a bunk room design? Check out some space-saving bunk room ideas here!
Mistake #3: Forgetting to Prioritize Outdoor Space for Your Lake Home.
At the lake, everyone is constantly coming and going. Whether on the water or relaxing nearby, outdoor space with the comfort and convenience of your home's interiors is essential. This might include an outdoor kitchen and/or fireplace, a covered patio or screened-in porch, and lots of comfy seating to maximize your relaxing experience and lakeside views.
Now here's a home that makes the most of its outdoor space and views…check it out!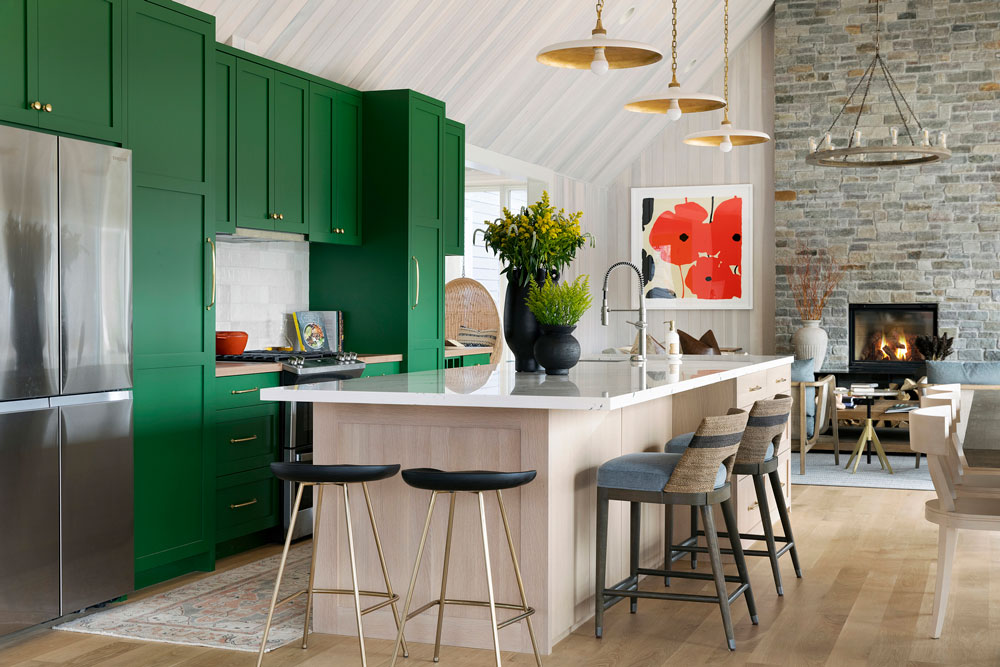 Remember, your lake home should be a respite from the busyness of day-to-day life. That means designing a space with all the conveniences you seek, durable finishes that minimize maintenance, loads of sleeping space, and a killer outdoor setup. Once you have all the necessities covered, have a little fun with the design. This is the best home to go bold with color and infuse your personality.
Check out this colorful lake home that exudes personality! Our Colorblock Nordic Chalet.