Westlake Home Tour
Comfortable Living for a Modern Family
Just outside of downtown Austin, this Westlake home is a new build melding a modern aesthetic with the coziness required by a family who enjoys staying in. The design of this Westlake home lends itself to all that the community has to offer, including killer views of downtown Austin. It's a secluded locale with great outdoor living space – a must in Texas.

Optimizing Downtown Views
From nearly every vantage point in this home, there is a great view to be had. A modern design and 10′ high windows maximize sightlines, meant to be enjoyed by those who live here. With such large windows, privacy could have been an issue. Still, with a meticulous build and precise window placement, this family didn't have to sacrifice their privacy or views. Finishes and furnishings were kept minimal, maintaining sightlines throughout, whether cooking in the kitchen, relaxing with the family, or hanging outdoors. In this Westlake home, there is no such thing as an unpleasant view!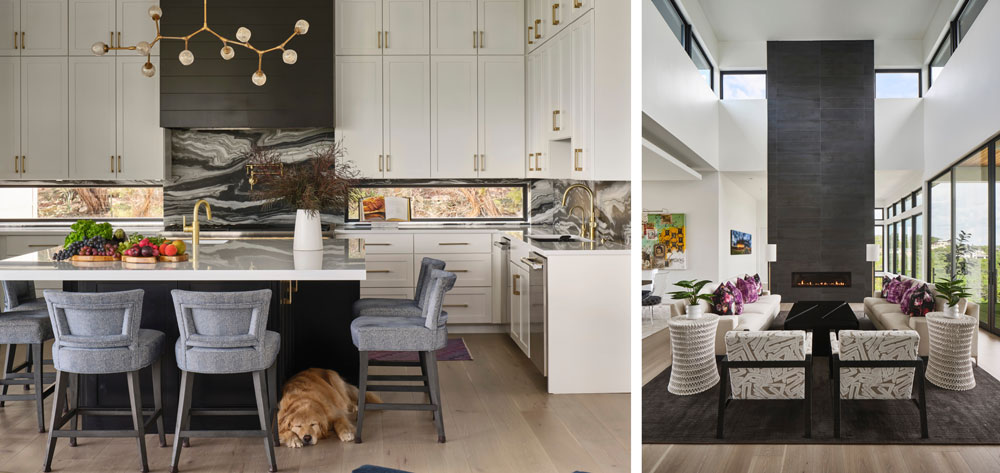 Balancing Scale & Height
The scale of the home also presented a unique design challenge – planning furnishings to fit the space. Senior designer, Heidi Feliz-Grimm, suggested edits to the original plans to ensure proportionality throughout the home while keeping with the modern and functional aesthetic. She added a row of upper cabinetry to enhance the kitchen and make the most of the available ceiling height. And she selected an oversized tile with the appearance of an oxidized metal finish on the fireplace surround to anchor the living room. It contrasts against a neutral palette with jewel-toned accents throughout.
Loving this build? Check out more stunning custom builds from Olson Defendorf Custom Homes.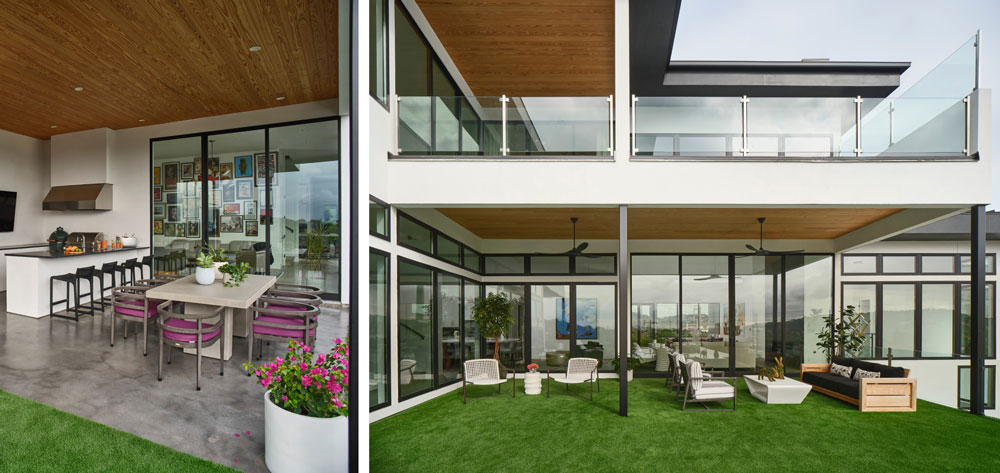 The Best Outdoor Living
In Texas, outdoor living space is an extension of the home. And with such killer views, this is a space for entertaining or simply enjoying a low-key day as a family. This outdoor space offers all the convenience of the inside, and a spacious outdoor kitchen makes cooking a breeze. Seating is abundant from the counter stools, large dining table, and casual seating area – warm finishes and bold notes of color continue the modern and comfortable aesthetic.
This Westlake home was ultimately designed for a family and how they live. A modern aesthetic keeps furnishings purposeful yet minimal while maintaining a warm and inviting atmosphere. This home was made for the occasional entertaining, but mainly for the love of staying in.