Our Favorite Paint Colors & Color Combinations
Check out our Paint Guides for the New Year!
It's true, we don't love to focus on trends. But, when we get asked what paint colors we've been loving and what y'all can expect for the new year, we are happy to take a moment to reflect on the past year yet also give you a little taste of what to expect in the new year. (Hint: Read all the way to the bottom to see more!)
So get ready for a celebration of color in 2023! Yes, we think neutrals are a mainstay, but we're also excited to introduce some interiors that honor color in the best light possible.
1. Neutrals and Whites are Here to Stay
You may recognize some of our favorites, and not only do neutrals and whites heavily impact the way an overall room or home feels, but they can also impact the style of the home. Check out some of our favorite neutral and white color combinations…from wall to ceiling, trim, and molding.
2. Dramatic Green Paint Colors Make A Statement
Green is having a moment, and we are here to support it for years to come. Even though it's a notorious secondary color, when selected in the right shade and hue, it imbues a timeless aesthetic that promises not to miss a beat as your home ages.
3. Go Bold with Primary Shades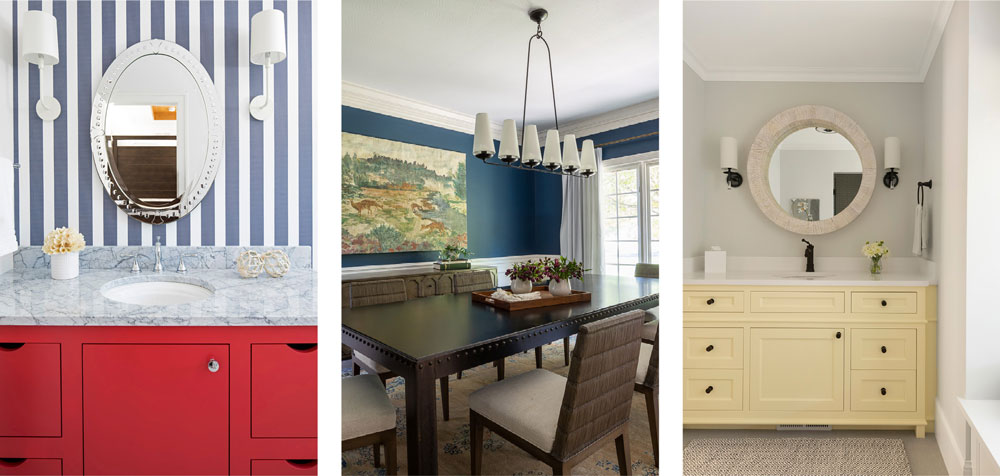 As with green, 2023 will be the year to go bold! Showcase your favorite primary shade and embrace it for years to come. When used in a healthy amount (whether it be a bathroom vanity or the wall above your wainscoting), it's sure to be a glamorous introduction to any welcome guests.
Looking Ahead…
Want a sneak peek at some of our favorite 2023 color selections? Check out our boldest choices below, and let us know which colors you're most excited to see in our upcoming projects!
It's always important to remember that paint colors are a personal choice. The above recommendations have been selected for our amazing clients based on their home design needs and desires. If you're interested in working with a designer on your paint color selections, please consider our Design Services or a 1-Hour Consultation, which is the perfect opportunity when needing help with paint color selections!