The O'Hara Method: Choosing A Rug, Part II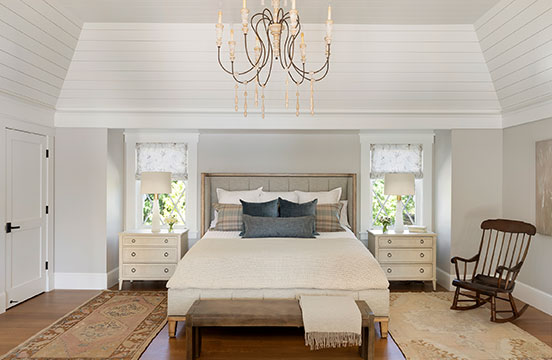 Rug Guide Part II: Choosing Rugs for Your Space & Lifestyle
Rugs add warmth and structure to a home. But with so many materials, colors, patterns, and size options, choosing a rug can feel daunting. In part II of our rug guide, we're asking questions that will help guide you towards actionable steps when purchasing a rug for your space and lifestyle.
Haven't read Part I? Check it out HERE.
Purpose & Palette
Going beyond the overall function of the room, by candidly observing how you and your family live or will live in a space will help you in determining the purpose your rug will serve. Common examples to consider are foot traffic, daily activities, and children. These all play an important role for your rug!
For multi-functional, open-concept living, take into account the combination of multiple rugs within a single space to ensure some degree of cohesion. Whether layering or defining specific areas, rugs should coordinate in some capacity. This could mean a complementary color palette, coordinating textures, or a consistent pattern. In addition, singular spaces must take into account the aesthetic of the surrounding furnishings, walls, and sometimes neighboring rooms.

Not sure what your style is? Take our Style Quiz and find out HERE!
Construction & Material
Now that you know the purpose this rug will serve you, as well as the overall aesthetic to consider, you can explore available construction and material options. These options play into both the look and feel, but also the durability of the rug itself.
• Formal or less used spaces: When wear and tear are less of a concern, you can select materials that are more high end because there is less risk of spills and stains. This is a spot where you can spend a little more. Think high-end silk or wool hand-knotted rugs.
• Heavily trafficked spaces that require durability: When you know a space is going to be well-loved, you want to keep this in mind as you seek out furnishings and decor. This is especially true for your area rug. Think hand-knotted and flatweave for long-term wear and tear, as well as more expensive options like high-quality wool, linen, sisal, or jute. Less expensive options include synthetics and hand-tufted or power-loomed constructions. Synthetics are also great for outdoor spaces.
• Combining aesthetic and function: The need for a beautiful rug does not mean you have to sacrifice function. There are many options that allow you to create a beautiful space while also meeting your needs. Keeping in mind your price point, more often than not, synthetic fibers and machine-made rugs are more cost-effective. Use the chart below to understand options and determine the best direction based on the needs of you and your family.
The Importance of Care
Caring for your rug will not only maintain the look and feel, but ensure your rug lasts. Here are our top tips for taking care of your new favorite rug now so that you can enjoy it for years to come.
Now that you've selected the rug of your dreams with the help of this rug guide, stay tuned for part III which is all about determining the perfect size and the ever-important rug pad. Hint, hint – it adds comfort and protects the floor underneath.

Where to start your rug shopping? Check out our sister company, Fay + Belle Rugs!