Must-Have Creative Solutions for Your Kitchen Design
Regarding your kitchen design, it can be hard to know what conveniences to include for everyday living. This applies to everything from the most durable and classic cabinet options to unique storage features you hadn't even thought of. Because each home, kitchen, and family's needs can be so specific, this is where your interior designer comes in. They bring the benefit of experience, and you get insights into what has worked best for others and how to incorporate that into your home for the best possible kitchen design overall.
They say the kitchen is the heart of the home, and we couldn't agree more. Let's be honest … people go where the food is. And nothing is more stressful than a cluttered or dysfunctional kitchen. Today we're sharing three must-have creative kitchen design solutions to make your kitchen the multi-tasking master of the home and streamline everyday tasks for your family.
1. Double Islands for Double the Fun
When it comes time to prep for the week or the night's dinner, there is no such thing as too much counter space. And in many homes, the go-to place for dinner is the kitchen island. But enjoying a meal on the island is hard when it was also used to prepare that same meal. This is where two islands are so helpful when designing a kitchen. You have one island space for prep and the mess feeding a crowd. And another island available for sitting down and serving dinner.
Need more double island inspo? Check out our North Dakota Residence and Lake Minnetonka Home.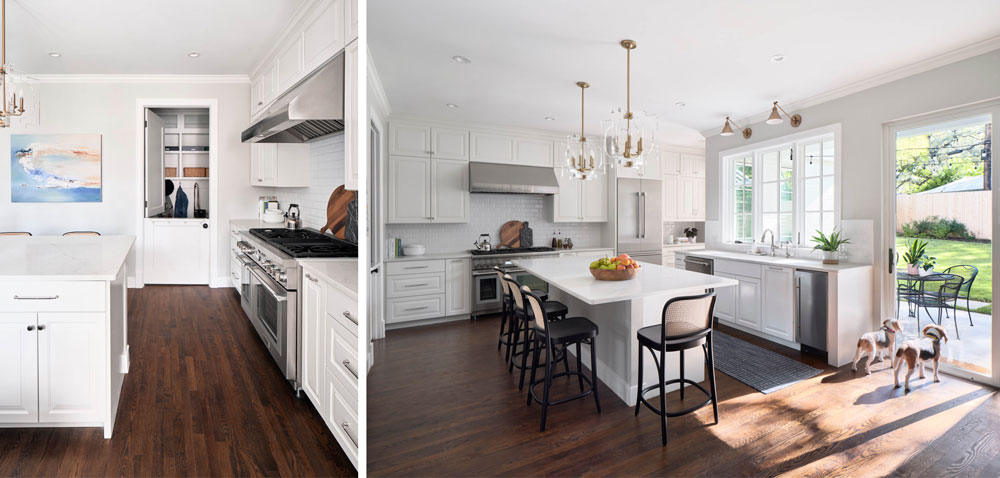 2. Dutch Door to Hide Messes
Despite your best efforts, there is always an area of the home where things collect. While you might not be able to prevent messes entirely, you can hide them from sight for a home that feels orderly and intentional. A mudroom with a Dutch door can hide messes, especially those created by busy puppies near the floor. Because the door can be simultaneously opened and closed, it maintains lines of sight and the feeling of openness.
Need a few more ideas for your dogs? Check out these 28 Dog Room Ideas.
3. Consider a Prep and Drink Station
A prep and drink station is one of the most popular requests when designing a kitchen. And it's true! The design possibilities can feel endless. It should be located near the main living area and easily accessible from the outdoor patio to keep drinks within reach no matter the day's activity. It can also be a smaller space, designed with specific needs in mind [think wine and hors d'oeuvres], nearby areas of the home where drinks are most essential. Finally, it can be a large and in-charge station, complete with refrigerated storage, an ice machine, and additional dry storage.
9 Tips on Setting Up A Swanky Home Bar
When designing a kitchen, there is a creative solution to every challenge you can imagine. Whether you want to keep small appliances off the counters, maximize prep space, or hide your pantry within the cabinetry facade, you can make your dream a reality. At the end of the day, if your kitchen doesn't make life a bit easier, we promise there is a solution to ensure it works for you in the future.