A 1938 Brick Colonial Transformed
4 Ways to Design Functional Space for a Busy Family
For this active family with four kids, the home's original layout wasn't quite working. The lack of a mudroom, too-small kitchen, limited storage, and a dark office left something to be desired. A reconfigured main level addressed pain points to add functional space for their on-the-go lifestyle, filled with work, travel, extracurriculars, and sports while maintaining the style and integrity of their 1938 Brick Colonial-style home.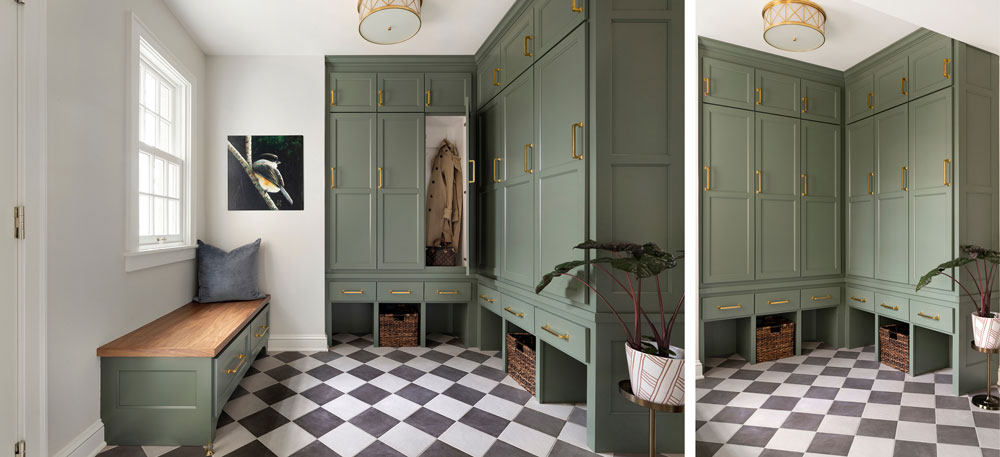 1. Customized Cabinets Add Functional Space & Storage
A key element in the design was custom cabinetry. This added much-needed storage in addition to enhancing the capacity of essential spaces throughout this main floor. The owners' specific needs were discussed and addressed in each room, and design details from the original 1938 finishes were incorporated into the remodel. Elements from the breakfast nook were integrated into the corbels on the island and hood as well as some cabinet panel features. 
The most valuable addition came in the form of incorporated mudroom storage that maximized function and complemented the traditional aesthetic.
By collaborating with Engstrom Wood Products on this Minnesota mudroom, beautiful tile can be enjoyed while shoes have a space of their own – to be put away, not just thrown into a drawer – ultimately keeping clutter at bay. Locker-style cabinets have easily become a favored choice in mudrooms and the addition of drawers below are unique and functional for smaller items like hats and gloves required for cold, messy winters.
2. Borrowing Square Footage
The previous powder bath was oversized and provided us with an opportunity to rethink its use. We were able to reconfigure square footage elsewhere, which distributed more functional space to key areas of the home, like the kitchen and new mudroom.
The redesigned powder bath packs a lot of design details into a small area. From unique walnut-reeded cabinets to wall sconces with a subtle twist detail, and color added with wallpaper and a painted ceiling, this powder bath packs a design punch and feels fun at the same time.
Read more about another small scale remodel, our Tudor Revival: Throwback Thursday: Tudor Revival Remodel Before & After

3. Where People Gather
With four kids, accommodating the entire household is important. And the kitchen is a natural gathering spot – a place for coming together, enjoying a meal, and catching up after a busy day. But with limited space and a breakfast nook that was a bit too cozy for this family of six, it was time to remodel and refresh.
The first step was to take out a wall and expand the kitchen for more openness and flow. MDS Remodeling made this possible, transforming tiny spaces to accommodate the needs of this family. Another kitchen essential was an island with casual seating for the kids – a must after removing their informal eat-in spot. While taking down walls added openness and flow, the inclusion of three walls of custom storage ensured everything had a place.
Curious about more kitchen storage hacks for your small-scale remodel? 5 Tips to Creating Natural Flow + Our Favorite Storage Hacks!

4. A Home Office that Generates Productivity
This office was dark, dated, and overly traditional. As our client traveled less due to the pandemic and like many, spent more time working from home, this space became increasingly important. 
Grasscloth wallpaper brightens and adds natural texture, and new built-ins maximize use, with a spot for the printer and shelving to display family photos and travel memorabilia.
Remodeling an older home is not without its surprises. But it is possible to make the most of the space you have, with some creative problem solving and the addition of custom details, to prioritize functional space. This 1938 Brick Colonial is everything this family needs, in a neighborhood they love and walking distance to the country club.
Looking for the full tour of this classic remodel? View photos on our portfolio here: Country Club Remodel